Scharffen Berger has invited Chocolate to the PARTY with the introduction of Chocolate Provisions, our
new line of chocolate flats, which includes 41% Milk Chocolate, 70% Dark Chocolate with Sea Salt, and
82% Simple Dark Chocolate plus others with delicious inclusions. They are designed to sweeten your
boards, entertain in style and pair with your favorite wine, beer, bourbons/whiskeys and CHEESE!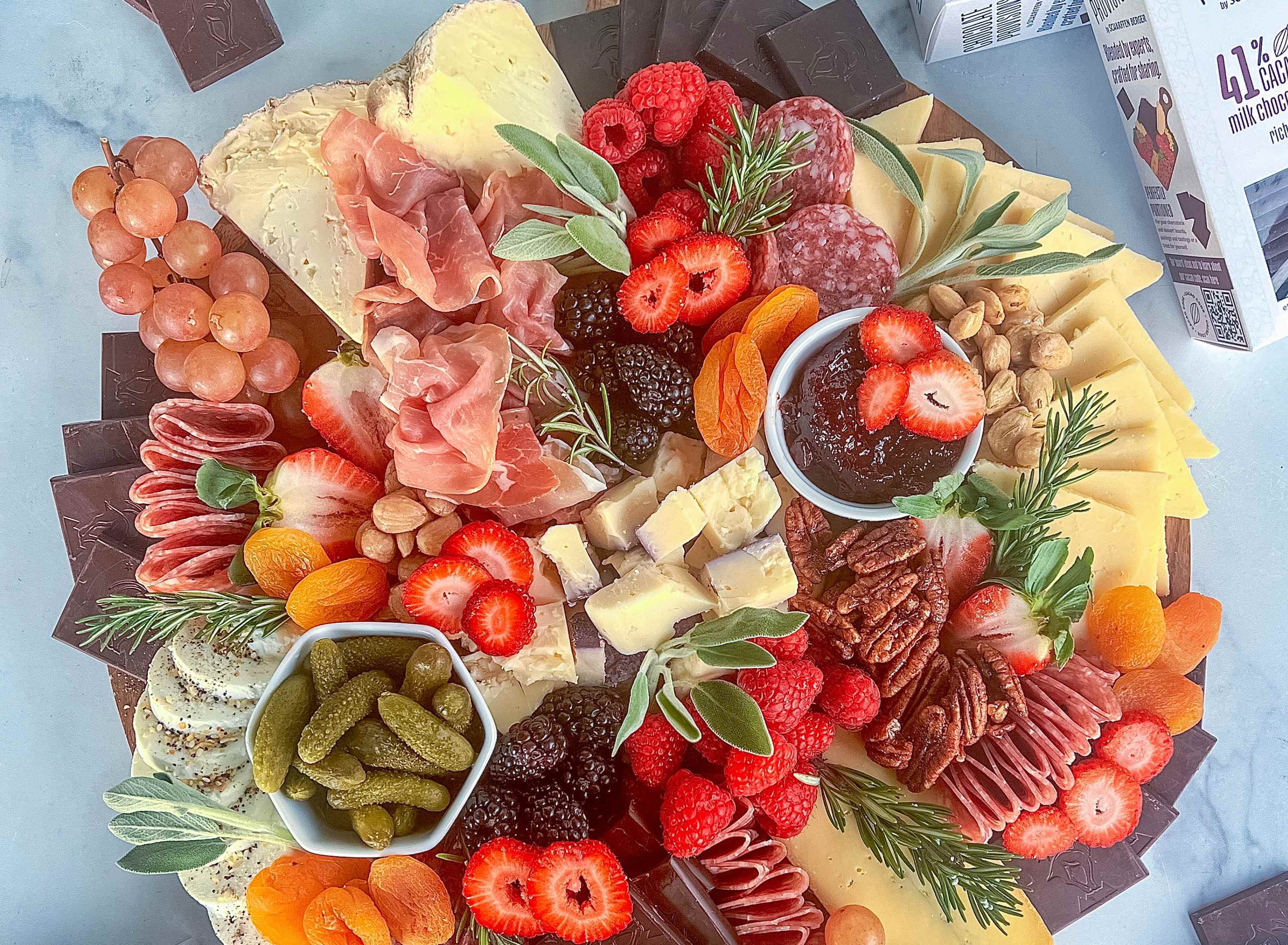 While meat and cheese are typically the hero of the charcuterie boards it's important to also offer your guests a little something sweet!
Take dessert to the next level and pair Chocolate Provisions with seasonal fruit and nuts. Nothing better than Chocolate + Fruit
For sheer indulgence, make Chocolate Provisions the centerpiece for a dessert board. Brownies, cupcakes, shortbreads, cookies, and profiteroles provide an ideal backdrop for all of the Scharffen Berger Chocolate flats. And don't forget, Smore's! Our flats are perfectly portioned for a sophisticated adult treat.

Every board needs Chocolate. We've made this Mediterranean themed snack board featuring Jackson's Sweet Potato Chips, fresh veggies and various dips. Add in chocolate and it's a complete meal.
While pairing chocolate and wine (especially red wine) is a classic notion, creating a combination that allow both components to shine is the fun part! Below are some pairings to help you navigate these two indulgences and bring out the best of each.
41% Milk Chocolate
Compare and Contrast: Our sweetest, creamiest chocolate will be a great balance against a dry sparkling wine. While Brut Champagnes are the classic of this category, Proseccos and Cavas would also be great options.
Like with Like: The creamy texture of our milk chocolate is perfect with a rich Chardonnay or a white Burgundy.
70% Dark Chocolate with Sea Salt
Compare and Contrast: It's time to enter the often-neglected world of dessert wines. Port wines are made by adding neutral spirit to a red wine mid process, which halts the fermentation process while the wine still contains a powerful punch of natural sweetness.
Like with Like: A full-throttle red wine would stand up to the 70% bitterness. A Petite Sirah is an outstanding and brawny wine or Italy's Valpolicella Ripassos.
82% Dark Chocolate
Compare and Contrast: Bordeaux's Sauternes are among the world's most coveted sweet wines and make the perfect pairing for the 82%
Like with Like: An extra dark chocolate is a natural fit with extra dark red dessert wines. A vintage port would provide a decadent experience or a Banyuls from France's Rhone Valley.
Chocolate Provisions marry up stylishly with Scotches and Whiskies, and Bourbons.
41% Milk Chocolate = high rye bourbon
70% Dark Chocolate with Sea Salt = Wheated Bourbon
82% Simply Dark = high proof bourbon
41% Milk Chocolate = darker beers like Stouts and Porters, especially an Oatmeal Stout
70% Dark Chocolate with Sea Salt = the earthy hoppy flavors of Pale Ales, IPA's and Hazy ales are perfect with the sea salt inclusion
82% Simply Dark = Belgian Ales
CHECK OUT
THE CHOCOLATE PROFESSOR for GREAT CHOCOLATE + CHEESE PAIRINGS